2007 – When the Seeds were first Planted… "Mental Training in Tennis: applied strategies for success" book seeds were first planted…
2007 – When the Seeds were first Planted… "Mental Training in Tennis: applied strategies for success" book 

Group of Tennis Coaches participating in the 1st On-Court Mental Training session with
Rolo Mental Coaching (Cristina Rolo and Dave de Haan)
during Portuguese Tennis Federation elite Coaching Clinic, Lisbon, Portugal
Portuguese Tennis Federation (FPT) Elite Coaching Clinic
– Firstborn 1 Week Old.
2007, when the "Mental Training in Tennis: applied strategies for success" book seeds were first planted, our firstborn was just but one week on this earth. Cristina Rolo, Ph.D., CMPC, was asked to head up an elite course about mental training in tennis for the Portuguese Tennis Federation's pro-level coaching development program. Despite 25 stitches due to the recent baby delivery, Cristina drove over 250 km to conduct the elite coaching clinic in Lisbon.
A classroom full of Experienced tennis coaches. Some of them were the best players of their time before coaching. This tiny woman, just having given birth, was ready to get back at it to assist and educate people with big aspirations for their careers as coaches. At first, some of the coaches were skeptical. They were showing signs of resistance, for at this time in Portugal, Mental Training's value was not yet recognized. 
The classroom presentation was only one hour. Dave de Haan was there to assist with the delivery of the methodology that later became known as the Rolo Mental Coaching (RMC) Methodology.
When Dave was presenting his part in the areas of his expertise, Cristina quickly went to the babysitter, who was in the next room to breastfeed her beautiful little angle. It was not even noticed by the attendees for everything ran smooth like clockwork.
When Cristina came back, it was time to start the real mental training part of their delivery, which was a huge surprise. Some coaches had not read the course flyer well enough for it said to bring athletic gear and tennis rackets. Some coaches had to wear borrowed equipment, but all were ready and seemed very interested in what was about to happen.
Pioneer On-Court Mental Training
The coaches had never been on-court for Mental Training education before. All of these proceedings usually took place in a classroom with someone (boringly) talking for hours. In the past, they endured that because they needed the credits for their coaching licenses. 
For the next hours, Dave and Cristina shared their on-court mental training experience with the coaches. There was not much lecturing, and to the coaches' surprise, they were doing Mental Training on the tennis courts. It was fun, educative and enlightening for all. Even Dave and Cristina learned a lot that day about how effective their evidence-based methodology and strategies were, to educate and enhance the coaches' performance. 
When the Seeds of the "Mental Training in Tennis" book
were first Planted
After the training was complete, a group picture was taken. Hands were shaken, contacts were exchanged and what was the most exciting development, and the reason for sharing this story, was the informal conversation that followed. The coaches found the applied RMC methodology remarkably useful and loved it so much that they transmitted a desire to have all that they learned that day in the form of a book.
Dave and Cristina never aspired to be authors. However, it was then when very excited elite Tennis coaches planted the seed of the newly released book "Mental Training in Tennis: Applied Strategies for Success."
Written by Dave de Haan, B.A.
High-Performance Coach/Consultant
www.rolomentalcoaching.com
"Mental Training in Tennis: applied strategies for success" book
The "Mental Training in Tennis: applied strategies for success" book is now available in English worldwide.
For more details or to buy the "Mental Training in Tennis: applied strategies for success" book click on the following link:
https://www.amazon.com/Mental-Training-Tennis-Applied-Strategies-ebook/dp/B088XR3WXW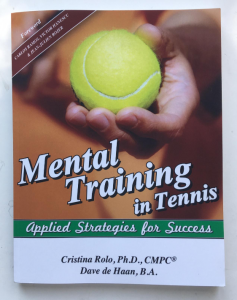 Interested in acquiring the Portuguese version of this book? Contact Rolo Mental Coaching at https://www.rolomentalcoaching.com/contact/
---