Mental Training In Tennis: Applied Strategies For Success Book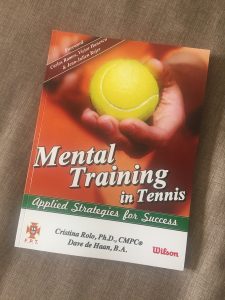 Although there is plenty of literature on mental skills, we believe that there are not enough applied books that provide both informative content and easy tools to implement on your own.
The updated English version of 2009 released Portuguese Mental Training in Tennis book, does provide the relevant performance enhancement content, and applied strategies for success. Specifically, it contains 33 (off-, and on-court) step-by-step exercises linked to each of the 6 areas included in the book:
Psychological Training
Motivation
Goal-Setting
Positive Self-Dialogue
Concentration
Confidence
Although the language and examples of the "Mental Training in Tennis: applied strategies for success" book is specific to one sport, its scientific foundations and strategies apply to all domains: Sports, Business, Education, Health, Special forces, and Performing arts.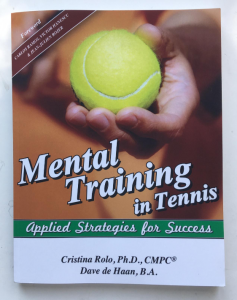 ORDER  the English version of the MTT book Click via the respective Amazon link:
USA 🇺🇸 https://www.amazon.com/dp/B0884CJMBW
Germany 🇩🇪 https://www.amazon.de/dp/B0884CJMBW
United Kingdom 🇬🇧 https://www.amazon.co.uk/dp/B0884CJMBW
Canada 🇨🇦 https://www.amazon.ca/dp/B0884CJMBW
Japan 🇯🇵 https://www.amazon.co.jp/dp/B0884CJMBW
Spain 🇪🇸 https://www.amazon.es/dp/B0884CJMBW
France 🇫🇷 https://www.amazon.fr/dp/B0884CJMBW
Italy 🇮🇹 https://www.amazon.it/dp/B0884CJMBW
If your country is not within the previous list, please search which Amazon delivers the MTT book in your country. Should you need our assistance, feel free to contact us https://www.rolomentalcoaching.com/contact/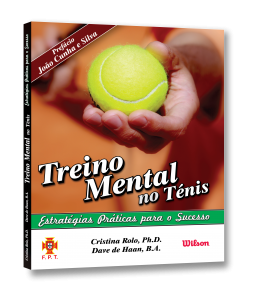 TO ORDER the Portuguese version of the MTT book Click this link.
This pioneering book was created based on the assessed needs and became an educational tool of reference. It has contributed to the systematic development and implementation of mental skills training necessary to foster success and well-being. Since the release of the Portuguese version of this book in 2009 (together with the implementation of clinics, educational workshops, and consulting by RMC), Portugal has seen significant developments in terms of professional tennis players' mental toughness, being currently a nation that has several ATP top players. More importantly, mental training now has a serious place within the development of tennis professionals and youth.
Besides the sports arena, RMC has conceived success manuals for students and teachers to enhance academic performance and develop life skills. RMC desires to produce additional Mental Training books for specific sports and diverse contexts (e.g., business, health, performing arts). RMC is currently writing a book on effective parenting (in sports and life in general), an area considered extremely important and still underdeveloped.
We are always looking for sponsors and partners who are interested in collaborating with us and our projects, promoting excellence, success & well-being. Join us!