RMC Weekly Blog: The 7 Power P´s to Success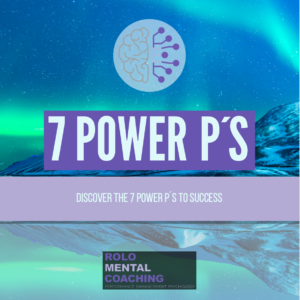 When we train an executive manager or CEO, we follow a clear course of training in the power P's. It is of no use to try and apply for any elaborate managers training course if the person does not completely own the following important skills that contribute to success.
Potential – access what your strengths are and be honest about your developmental need in order to acquire good mentors or partners.
Position – Know your role in the process and know when to delegate when others are better than you at something.
Performance – Take notice of what makes you be at your best: what foods to eat, how many hours of sleep do you personally need, and so on. Know your strategies from top to bottom and what routines are most beneficial at certain process-related moments. 
Pace – Be aware when you are inflow. We have a saying at Rolo Mental Coaching. "When in flow, let it go!" No matter what techniques or intelligent things you might have learned, being in flow always trumps when considering successful results. Therefore it is good to learn to become aware of the feeling of flow. Many people have felt it, but it goes away the moment people question why things are working so awesomely. This is because we activate the rational thinking self, which only interrupts your awesome connectedness with your talent. 
Patience – Sometimes you are doing everything right, and the only thing missing for the recipe to success is time. Sometimes the timing is not right, or when you are dealing with a project involving others, their development or process might not align with your pace. When dealing with the process, you are creating the formula to success, and this thought can give great calmness when we want to choose to be patient. We know in our deepest intuition that success is only a matter of time in these situations. Instead of getting frustrated, a trained person is already enjoying what is about to come. We call this awareness "Pleasure Delay".
Persistence – The one who wants it the most usually gets it. No matter what people are saying or doing around you, when you stick to your guns in matters what you believe in, you will get results, especially if you are willing to give it more tries than the next person. 
Perseverance – This is the reward that made all the sacrifices and hard work worth everything that was endured. Knowing that you went with the proper process-oriented strategies, you get results that sometimes exceed even our own imagination.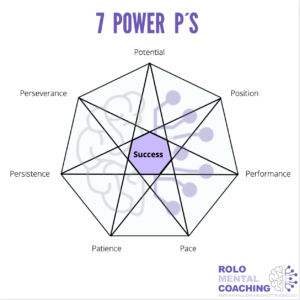 Rolo Mental Coaching believes that anyone who applies the above with rigor and discipline will obtain their goals more often and will inspire others to follow their lead. We have often seen the positive ripple effects of our coaching when a client really starts to show their trained skills. Many managers have reported that their teams which they led were feeling the effects of the clear mindset and often adopted similar attitudes or at least started asking the kind of questions that contribute to the success process.
Will you ignite the power P's for your next wish or dream now that you know the recipe that helps build success that lasts?
Written by: Dave de Haan
Rolo Mental Coaches are specialists in high-performance coaching. 
Follow us on Instagram and FaceBook.
If you are interested in working with RMC, feel free to reach out to us via our contact page by clicking here.
---